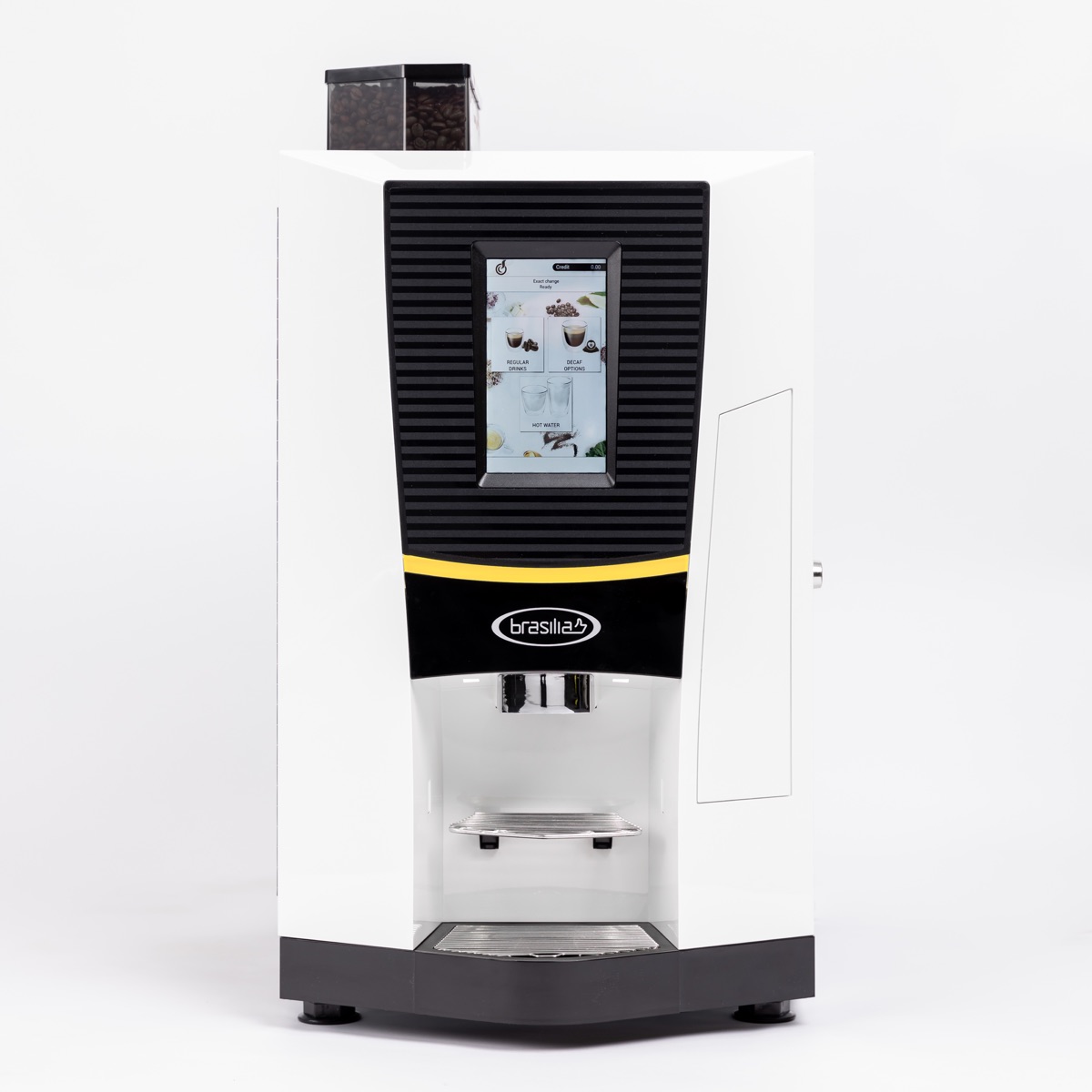 Created to meet all the needs of the Horeca world, Festa is the machine that brings together high performance, exclusive design and excellent drinks in a simple, attractive and smart solution.
PLUS:
Double output coffee
Touch Tech
Compact
FAST INFO:
Width 395 mm
Depth 576 mm
Height 650 mm
Weight 31.5 kg
The fully automatic dispenser designed by taste professionals for catering professionals.
Meeting the demands of versatility, drink quality, taste variety, ease of use and aesthetic appeal, this fully automatic dispenser is able to ensure an excellent relationship between investment and performance. Festa is beautiful to look at, easy to use, quick to clean and contains a fresh milk module, offering a complete menu with a variety of drinks for all tastes.
Satisfy the most demanding customers with coffee and drinks for all tastes.
Espresso, double espresso, American coffee, long coffee in a big cup: coffee is not just about espresso, each consumer has a different habit. The coffee unit has a variable chamber, meaning that Festa can satisfy every consumer preference.
One blend of coffees, three instant products and a Fresh Milk Module for the preparation of excellent cappuccinos and many other easy-to-make recipes. The bartenders can therefore prepare a variety of perfect drinks without wasting energy, the roasters enhance the quality of its product, while coffee shops, catering and self-service areas meet the diverse needs of their international clientele.
General Information
Dimensions mm H 650 (720 with external coffee beans hopper) x W 395 x D 576 - Weight 31,5 kg - Boiler resistance 2.80 kw doppia caldaia - Power supply 220/240 VAC, 50÷60 Hz - Water supply 3/4" F
Coffee group: Variable chamber (ESV), Traditional espresso (es)
Coffee bean container: 1x1.3Kg (3.5 L) - Single instant powder container: 3 (single coffee bean canister 1.3 L, dual coffee bean canister 3.5 L)
Interface: Touch 7" customizable.
Features
Double output to deliver 2 cups of coffee simultaneously.
Illuminated delivery compartment with tilting cup holder, 170 mm in height to use any type of cup, compatible with a 130 mm jug.
Cup holder height 135 mm
Liquid collection: 2l capacity
Coffee ground collection: up to 40 coffee grounds.
Technology
Version with traditional espresso group and version with variable chamber brewer to work with coffee doses of 7 g to 14 g and to supply all varieties of coffee: espresso, long, american and many more.
System with variable brewing pressure: 1÷10 bars.
High-capacity coffee hopper: 1.3 kg of coffee.
Accessories and optional modules
Modul Fresh Milk.
4-litre fridge module with cup holder to maintain the quality of fresh milk.
Cup warmer available as an option to ensure the correct cup temperature at all times.
Environment
In compliance with ROHS and RAEE.